Sometimes you may feel like your Kirby vacuum have lost it's suction. And that could be right. All Kirby home-care systems have it's fan up front and that's where the great powerful suction comes from. However with that design there is a trade off - all the dust, sand and particles your Kirby is vacuuming are passing brought the front Kirby plastic fan blades. With the years passing by your fan may become worn off leading to losing the suction of your Kirby machine.
Look at the pictures below - it shows normal 2 year old Kirby fan assy (part no. 119096S for G3, G4, G5, G6, G7, G8, G9, Ultimate G, Kirby Diamond edition and Sentria) and 10 year old fan assy (part no. 119078s for Kirby Heritage and Legend).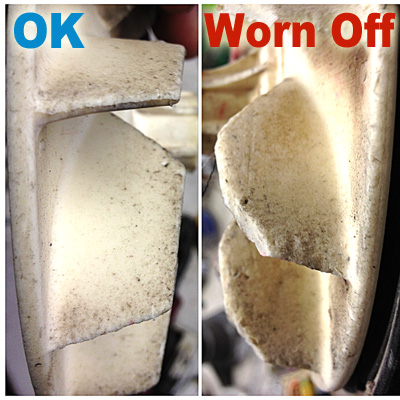 The best way to check your Kirby fan for wear is to book your Kirby for service with us :). While we are cleaning and lubricating your Kirby machine we will inform you if it needs a new fan, motor brushes, rear axel or other components that can often wear with the time. Replacing those KIRBY parts when needed will ensure that your KIRBY is in good shape and performs the way it should.
Other reasons for decreased performance of your Kirby Vacuum could be that the Kirby Brush belt is not on, or it has become lose. Check this article about When should I replace my KIRBY Belt?. Check if the brush is rotating easily, and if the head is not blocked by strings and hair. Check if you Kirby vacuum bag is not full. If unsure - book your KIRBY for a service with us.