Is Kirby better than other big brands like Dyson or Shark etc.? We like to leave that question for you to decide :) the best way will be to book a demo with us and make your own research and tests. Then you can decide for yourself. Look for scientific and professional approach - do not fall for articles and videos from amateurs / home users, that may not know how to do a proper test.
Here is an example of a good professional test we found from an independent (nothing to do with Kirby) stores in America.
This video is made by an independent store for vacuum cleaners in America. You can see the comparison between Royal and the other vacuums. Royal is a direct airflow design that looks like the KIrbys form 1957 and some other vacuums from that era :). Impressive information about suction, agitation and airflow. Must see to understand how really vacuuming works.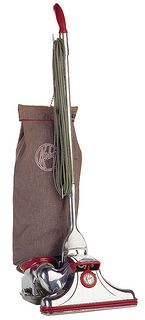 Do you think that Kirby model 516 from 1957 (the picture on the left) looks like the Royal from the interview?

Royal's performance was impressive and did show that any direct airflow machine can be better than everything else. Interesting explanation of airflow, suction and agitation isn't it? And imagine if you will what the latest Kirby (direct airflow design) can achieve 55 years later with it's 2015 Avalir model! Click here for all kirby models.
If you like to see it for yourself then book a demo with us. Our friendly and professional team will be happy to test your vacuum performance and show you the benefits of owning a Kirby
You should have good understanding now about suction, agitation and airflow.

So did you remember what was the most important when using a vacuum - suction, agitation or airflow?